Please note we are currently unable to dispatch to Northern Ireland.
Please note that grilles and louvres made to order have a current lead time of 10-12 working days. We have been informed by the manufacturer that this is due to a material shortage. We apologise for the inconvenience this may cause.
Straight Duct Lengths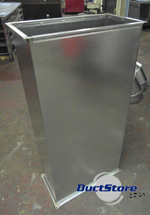 Rectangular ductwork lengths manufactured to order from 0.7mm or 0.9mm galvanised mild steel depending on size. Available with various end connections - selectable on the following pages.

For information on commonly used methods to join rectangular duct please click on the link below.

Joining rectangular ducting...

Note that rectangular ductwork is made to order. Please therefore take manufacturing time into account when scheduling your project.




Please use the drop-down menu below to select dimension A as depicted in the drawing to the left - dimension B and the length can be selected on the following pages:


Dimension A