Please note that due to a technical issue we are currently unable to accept Paypal payments.
Please note that we are experiencing a very high volume of orders. Lead times on products made to order are currently in the region of 10-15 working days. Off-the-shelf products are unaffected. We apologise for any inconvenience this may cause.
Rectangular Ductwork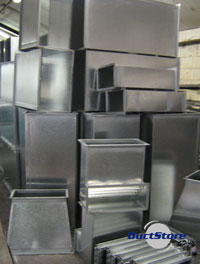 Ductwork is manufactured to order in our factory in Essex. We generally provide pricing from drawings supplied by the customer. If you would like a quote please contact us. Please ensure that any query regarding a quote is accompanied by some sort of drawing of the ductwork required, be it faxed, emailed, or a hard copy.

Rectangular ductwork differs from round spiral ducting and fittings in that it's generally not bought 'off-the-shelf'. However, we have made it possible to purchase some of the more common pieces here online.

If you are new to rectangular ductwork, or don't have a great deal of experience working with it we have provided some help on the methods used to connect the various parts together, which you can see by clicking the link below:

Joining rectangular ducting...

We will not accept orders by telephone for bespoke ductwork pieces without having been supplied with a fully dimensioned drawing of the pieces required.

Please note we are strictly metric.

Note that everything in this section is manufactured to order and is non-returnable. Please take care when ordering: we will send out exactly as ordered.