Please note we are currently unable to dispatch to Northern Ireland.
Louvres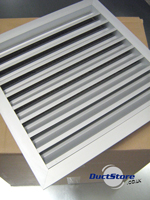 Satin-anodised aluminium weather louvres. Light gauge bird mesh to rear. Approx. 40mm blade pitch. These louvres are generally held in stock.

Please note that sizes refer to duct size i.e. the size of the duct or aperture they are designed to fit. For overall size (including flange) add 45mm.

Note that louvres have depth and require an aperture to fit into. The aperture required is the nominal size of the louvre e.g a 200x200mm louvre will require a 200x200mm aperture.

For information on sizing weather louvres correctly please see:

Using louvres in ventilation ductwork..