Please note we are currently unable to dispatch to Northern Ireland.
Oval Access Doors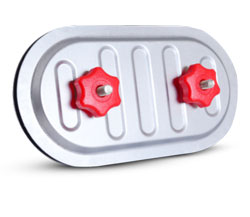 Designed for rectangular and square duct. Each door is supplied with a cutting template and installation instructions.

These doors are of the 'sandwich' style commonly seen on curved access doors for round ducts. They include a polyethylene gasket and are installed and removed easily by way of tightening/loosening the screw handles.