Please note that we are currently unable to dispatch to Northern Ireland. We apologise for any inconvenience this may cause.
Oval Access Doors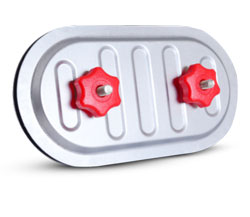 Designed for rectangular and square duct. Each door is supplied with a cutting template and installation instructions.

These doors are of the 'sandwich' style commonly seen on curved access doors for round ducts. They include a polyethylene gasket and are installed and removed easily by way of tightening/loosening the screw handles.