Please note we are currently unable to dispatch to Northern Ireland.
Please note that due to a technical issue we are currently unable to accept Paypal payments.
Circular External Reset Fire/Control Dampers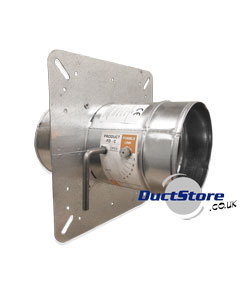 The FD-C damper is a combined fire and volume control damper.The damper can be reset, commissioned, maintained and tested externally, making it ideal for apllications where space is limited. A fusible link rated at 72°C is screwed into position via a 12.5mm diameter brass holder which locks the damper at any position from outside the damper case.

Volume Control

The FD-C damper has the facility for volume control through seven preset points in increments of 10° - from fully open up to 30° from the fully closed position. In whatever position it's used the damper continues to operate as a fully functional fire damper.

Installation Plate

The installation plate provides the means to fix the damper in position from one side only with no infill material required. 5mm dia holes allow for easy fixing.

Product Brochure...
FD-C Damper Installation, Operating & Maintenance Instructions...