Please note that linear bar grilles manufactured to order may take longer than advertised due to - what we hope is - a temporary material shortage. Lead time is currently around 2-3 weeks. We apologise for any inconvenience this may cause. All other grilles and louvres are unaffected.
In Duct Non-return (backdraft) Dampers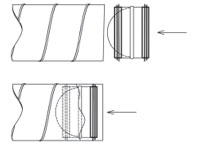 Non-return dampers have traditionally been installed between two lengths of duct, rather like a coupler: new in duct dampers can be inserted directly, simplifying installation.

Lightweight aluminium blades on a light steel spring maintain the damper in the closed position when no air is flowing, preventing wind/drafts from flowing back through the duct. These dampers feature seals and rolled edges.