Due to a high volume of orders there will be a 2 week delay in all custom manufactured ductwork. This includes all rectangular ductwork, grille boxes, and fabricated round fittings. This does not affect our stock items. We apologise for any inconvenience may cause.
In Duct Non-return (backdraft) Dampers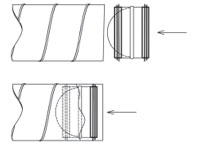 Non-return dampers have traditionally been installed between two lengths of duct, rather like a coupler: new in duct dampers can be inserted directly, simplifying installation.

Lightweight aluminium blades on a light steel spring maintain the damper in the closed position when no air is flowing, preventing wind/drafts from flowing back through the duct. These dampers feature seals and rolled edges.