Please note that we are currently unable to dispatch to Northern Ireland. We apologise for any inconvenience this may cause.
Extract Grilles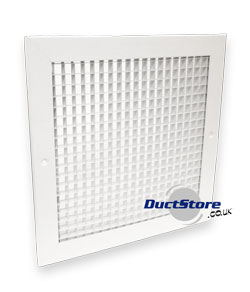 Please allow 6-7 working days for delivery as these are custom manufactured grilles.

We also hold commonly used square-shaped egg crate grilles in stock. They can be found here.


Manufactured from extruded aluminium alloy with an aluminium grid core. All grilles supplied with frames pre-punched for fixing, screws included.

Please note that the sizes stated refer to the duct size, or neck size of the grille. It does not include the flange. Sizes stated are nominal and refer to the aperture they are designed to fit. Actual size is 6mm smaller than the nominal size. These grilles have a 25mm flange, therefore the overall size of the grille is 50mm bigger than the actual size, and 44mm bigger than the nominal.

Example: A 200x200 grille is designed to fit a 200x200 aperture. It's actual size is 194x194. It has a 25mm flange, so its overall size is 244x244mm.

Grilles are available in white, silver, or mill finish.

Click here to download the manufacturer's brochure.


Please note that 'mill finish' means unfinished aluminium and is useful if you wish to provide your own finish. A 'mill finish grille' may show evidence of the manufacturing process such as light scrapes and abrasions.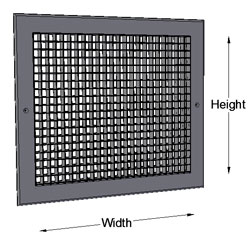 Click on a (nominal) size from the drop down menu below that represents the width of the grille required.


Width