Please note we are currently unable to dispatch to Northern Ireland.
Please note that due to a technical issue we are currently unable to accept Paypal payments.
Duct Flanges - Fabricated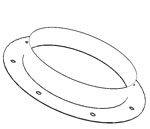 Duct flanges are fabricated to order according to your requirements. Can be used to connect to fans and other equipment.

The flanges are fabricated in two parts; the flange itself, and the collar. By default the flange will be 2.0mm galvanised mild steel, and the collar 0.7mm or 0.9mm depending on size.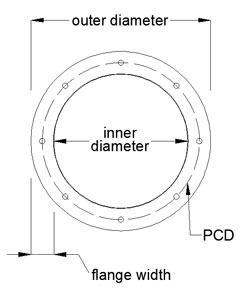 There is the option to include bolt holes. If this option is selected please provide the relevant information in 'Other Info' box below.

We will need to know:

a) The PCD. PCD means 'pitch circle diameter' and is the size of a circle drawn through the centres of the bolt holes (see drawing). If no PCD is provided the holes will be positoned centrally across the flange width.
b) The hole size. If for example you were using 8mm bolts you might require 9mm holes, or 11mm for 10mm bolts.
c) The number of holes.