Please note we are currently unable to dispatch to Northern Ireland.
Please note that due to a technical issue we are currently unable to accept Paypal payments.
Tapered 2 Spigot Plenum Boxes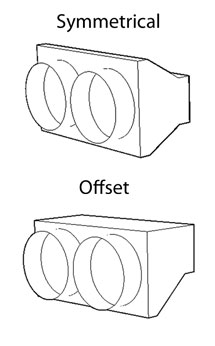 Manufactured to order from 0.7mm galvanised mild steel.

Tapered 2 spigot plenum boxes are available with or without a flange at the open end (see drop down for options). By default spigots are configured in an equally spaced linear fashion as illustrated in the drawings. They can be provided in a symmetrical or offset design (see images).

These plenum boxes are useful for applications in which the required spigot size diameter is larger than the height of the discharge aperture on AC/fan coil units.

By default the length of the box/es will be determined by us, maintaining a max. 30° slope angle for symmetrical boxes, or a max 40° slope angle for offset boxes. If you wish to determine your own length please use the "Any other info" box that appears on the following pages.

The option to include a 6mm acoustic lining is also available on the pages that follow.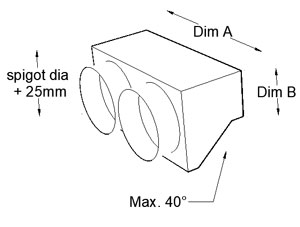 Click on a size from the drop down menu below that represents dimension A in the drawing (if required, dimensions can be fine-tuned on the following pages).


Dimension A