Please note we are currently unable to dispatch to Northern Ireland.
Please note that due to a technical issue we are currently unable to accept Paypal payments.
Standard - Circular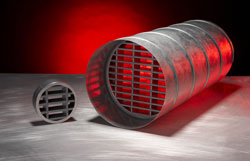 Circular intumescent fire dampers suitable for installation in ducts.

Key features:

- No need for square to round transitions
- Can be used to provide up to 60 minutes resistance to fire and hot smoke.
- Fits directly into duct
- No moving parts
- Resistant to clogging
- Excellent fire integrity and insulation performance
- Slimline (42mm font to back)
- Robust construction
- Simple installation
- Lower overall costs
- Bi-directional airflow
- Complete seal achieved in approx. 5 mins. when tested in accordance with BS 476: Parts 20 & 22. and BS EN 1634-1: 2000

Materials used:

Intumescent material in a slat construction based upon sodium silicate (provides the lowest activation temperature of any intumescent material at 100° C). Encapsulated in PVC extrusions with cross section dimensions of 40mm x 6mm, assembled in the form of a matrix. The assembly of slats is contained within two outer rings of aluminium, one on each face.

LVC40 products can be installed vertically, or horizontally up to 300mm dia.

Dampers are manufactured 2mm smaller than the nominal size to ensure a comfortable fit; e.g. a 200mm dia damper will have an actual diameter of 198mm

Note: In applications where a high level of humidity or moisture is anticipated it is recommended that the high performance LVH44 products be employed.

Pressure loss graphs are available on request.

Can be supplied ready fixed into a 250mm long length of female circular duct for an additional cost (often beneficial as it enables the damper to be installed as a regular duct fitting). See drop-down option.