Please note we are currently unable to dispatch to Northern Ireland.
Please note that grilles and louvres made to order have a current lead time of 10-12 working days. We have been informed by the manufacturer that this is due to a material shortage. We apologise for the inconvenience this may cause.
Non-Vision Transfer Grilles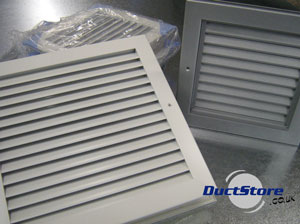 Please allow 6-7 working days for delivery as these are custom manufactured grilles.

Non-vision door transfer grilles are two piece grilles designed to be installed in doors or partitions. They allow free movement of air but allow no sight of one side from the other. They are supplied with an additional frame that affords a smart finished appearance on both sides. The use of the additional frame is optional. Fixing screws are included.

Sizes stated refer to the aperture size i.e. the opening they are designed to fit. Add 44mm for overall size (including flange).

Click here to download the manufacturer's brochure.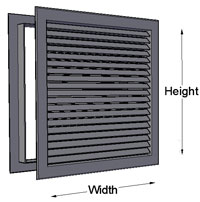 Click on a size from the drop down menu below that represents the width of the grille required.


Width