Please note we are currently unable to dispatch to Northern Ireland.
Please note that grilles and louvres made to order have a current lead time of 10-12 working days. We have been informed by the manufacturer that this is due to a material shortage. We apologise for the inconvenience this may cause.
Metu Overcollars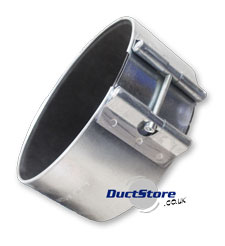 Metu Overcollars are 90mm wide galvanised sealing bands with a single bolt adjustment and a EPDM lining. Use as a self-sealing alternative to male couplers on smaller diameter spiral tube.


• One bolt fixing system: M6 Allen screw
• No projections inside the duct
• Inaccurate ends are securely connected
• Easily disassembled
• Air-tightness class D (DIN EN 12237) or ATC 2 (DIN EN 16798-3) when installed correctly.
• No additional measures, such as the use of adhesive tape, screws or sealant, are necessary.