Please note we are currently unable to dispatch to Northern Ireland.
Please note that due to a technical issue we are currently unable to accept Paypal payments.
Mesh Grease Filters 25mm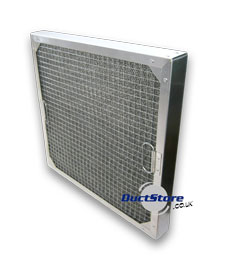 Frame: Rigid aluminium section
Media: Expanded metal multi-layer pad
Facings: Square section galvanised weld mesh on both sides.
Handles: Fitted as standard on centre line of the shortest sides.

Technical Data
Face Velocity: A face velocity of 2.5 m/s is recommended to ensure good grease retention.
Initial Resistance: 25 Pa

Mesh filters are of robust construction and are used for a variety of applications, grease and air or dust collection applications, coalescer and spark arrestance, ideal as a air prefilter for large particle contaminants and widely used in high air volume applications.

Comes with a safety edge channel to offer greater strength and safety over conventional products available on the market place

Using an Expanded metal multi-layer pad we are able to offer a panel with greater rigidity and importantly the pad cannot migrate particles, which can be found in ' knit mesh' filters, these types of panels can be hazardous where strands can break away from the filter.

Due to the nature of the material that we use, its integral strength means when it comes to cleaning it will stand up well, and outlast panels of lesser constructions
Tested to Eurovent 4/5

Maintenance: Type AGMB grease filters should be cleaned at least once a week. Please enquire about cleaning crystals.

Please note: these filters are not suitable for cleaning with caustic soda.

STOCK SIZES AND TECHNICAL DATA
Nominal Size - Actual Size - Rated Airflow
(w x h x d)

500 x 250 - 495 x 241 - 0.29 m³/s
500 x 400 - 495 x 394 - 0.46 m³/s
500 x 500 - 495 x 495 - 0.58 m³/s
450 x 450 - 445 x 445 - 0.46 m³/s
400 x 400 - 394 x 394 - 0.40 m³/s

All data is based on 50 mm thick filters
Please note that we can make custom manufactured sizes on request.