Please note we are currently unable to dispatch to Northern Ireland.
Please note that grilles and louvres made to order have a current lead time of 10-12 working days. We have been informed by the manufacturer that this is due to a material shortage. We apologise for the inconvenience this may cause.
Linear Bar Grilles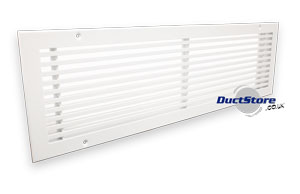 Grilles in this section are manufactured to order to customer requirements.

Delivery is typically 5-7 working days.

Linear bar grilles for heating and cooling ventilation systems. Suitable for both supply and return applications. Grilles are high quality precision manufactured with mitred corners. They are provided in heat-shrinked cellophane with corner protectors.

Deflection bars are fixed and are parallel to the length by default (they can also be supplied as a 'ladder style' with the bars parallel to width if required. Available frames are 25mm standard flange, or 19mm reduced flange. Available in appliance white and silver aluminium powder coated finishes. Alternatively they can be be supplied in mill finish. Mill finish is unfinished aluminium; this may mean they show evidence of the manufacturing process such as light abrasions/scuffs etc.

A range of core styles are available as depicted in the cross-sectional diagrams. These core styles can be selected on the following pages.

Click here to download the manufacturer's brochure.
Please use the drop-down menu below to select the width of the bar grille required as denoted in the drawing to the left. Length can be selected on the following pages.

Please note that the sizes stated are nominal and refer to duct size. For overall size - including the flange, and other dimensional data, please see the diagrams below.

Delivery is typically 5-7 working days.



Width