Please note that we are experiencing a high number of orders and that the current lead time on products manufactured to order will be approx. 5- 10 working days.
Please note that we are currently unable to dispatch to Northern Ireland. We apologise for any inconvenience this may cause.
Contra Rotating Cased Axial Fans - Single Phase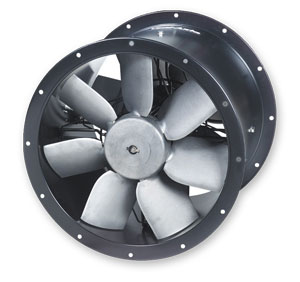 Cylindrical cased axial fans fitted with 2 contra-rotating complementary die-cast impellers (allows the duplication of pressure with the same air volume). Manufactured from high grade rolled galvanised steel. Fans are protected against corrosion with a cataforesis primer and black polyester paint finish.
All models are supplied with a pre-wired junction box located on the outside of the fan casing.

Available with single or three phase motors (this page lists the single phase models).

Contra rotating cased axial fans are general purpose fans designed to move large volumes of air in medium pressure systems. This often means systems with a longer run of duct. For performance curves and other, more detailed information, on this range of fans please visit the page linked below:

Contrafoil Contra rotating Cased Axial Fans TCBBx2/TCBTx2

Please allow up to four working days for delivery.