Please note we are currently unable to dispatch to Northern Ireland.
Please note that due to a technical issue we are currently unable to accept Paypal payments.
Baffle Grease Filters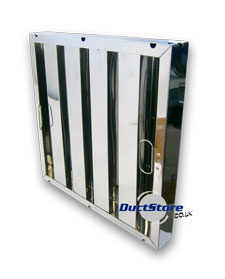 Baffle Grease Filters

For use in commercial kitchens and ventilation to extract grease laden air and offer a barrier to flame. Mesh grease filters hold the collected grease within the filter. Whilst this is an effective method of removing grease from the extracted air, it also creates a potential hazard if a fire occurs on the cooking surface. Because baffle grease filters allow the trapped grease to drain directly from the filter baffles into a drip tray below, this risk is removed.

Manufactured in stainless steel, the filters are easy to clean; simply wash regularly in a mild detergent.

Low pressure baffle filter
Robust construction, economy yet still offering high end features

Meets HVCA DW172 requirements

50mm nominal depth.