Due to a high volume of orders there will be a 2 week delay in all custom manufactured ductwork. This includes all rectangular ductwork, grille boxes, and fabricated round fittings. This does not affect our stock items. We apologise for any inconvenience may cause.
Oval Access Doors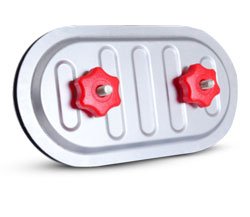 Designed for rectangular and square duct. Each door is supplied with a cutting template and installation instructions.

These doors are of the 'sandwich' style commonly seen on curved access doors for round ducts. They include a polyethylene gasket and are installed and removed easily by way of tightening/loosening the screw handles.