Open for business: we remain open and will continue to dispatch and accept orders; although in light of the new guidance we will be operating with a reduced number of staff.
DEC PVC Coated Fabric Flexible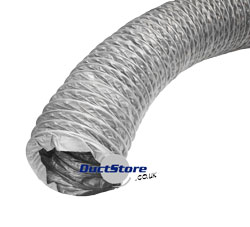 Highly flexible, strong yet lightweight duct suitable for various applications:

- General supply and extract ventilation
- Air conditioning systems
- Machine exhaust.
- Extraction of welding and vehicle exhaust fumes

Construction:
Polyamide fabric, coated on both sides with a co-polymer layer. The wire is welded into the canvas.

10m lengths supplied compressed in 600mm long boxes.