Due to a high volume of orders there will be a one week delay in all custom manufactured ductwork. This includes all rectangular ductwork, grille boxes, and fabricated round fittings. This does not affect our stock items. We apologise for any inconvenience may cause.
DEC PVC Coated Fabric Flexible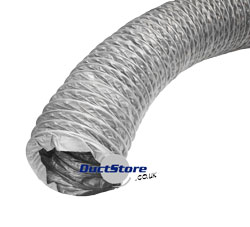 Highly flexible, strong yet lightweight duct suitable for various applications:

- General supply and extract ventilation
- Air conditioning systems
- Machine exhaust.
- Extraction of welding and vehicle exhaust fumes

Construction:
Polyamide fabric, coated on both sides with a co-polymer layer. The wire is welded into the canvas.

10m lengths supplied compressed in 600mm long boxes.