Due to a high volume of orders there will be a 2 week delay in all custom manufactured ductwork. This includes all rectangular ductwork, grille boxes, and fabricated round fittings. This does not affect our stock items. We apologise for any inconvenience may cause.
DEC Combi Flexible Ducting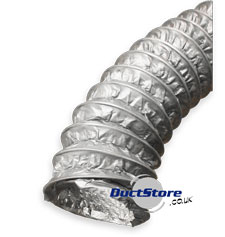 DEC Combi flexible duct is a very flexible, extremely strong laminate duct for different ranges of application. The base of the combidec series is an aluminum/polyester laminate duct with an outer jacket of copolymer. The duct can be attached easily to round and oval connection parts without any problems.

The fire resistancy been tested in several countries, according to current international standards. Because of the "sandwich construction", the different layers of polyester, aluminium and copolymer are overlapping each other completely. In case of fire, the system is able to function longer. The outer jacket is wear resistant and steam tight.

Supplied in 10 metre lengths compressed into 600mm long boxes.

DATA SHEET...