Please note that linear bar grilles manufactured to order may take longer than advertised due to - what we hope is - a temporary material shortage. Lead time is currently around 2-3 weeks. We apologise for any inconvenience this may cause. All other grilles and louvres are unaffected.
Weather Louvres - 75mm Blade Pitch (up to 2m²)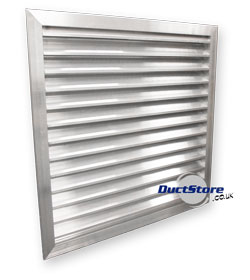 External aluminium weather louvres manufactured from extruded aluminium alloy. Architecturally appealing straight blade design with smooth, clean lines that visually compliment any structure's exterior styling.

75mm blade pitch; 50mm flange (if selected); approx 108mm depth (they require an aperture to fit into).

- Available in flanged or optional recessed frame.
- Suitable for use in exhaust and low to medium velocity intake applications.
- Reinforcing bosses run the full length of each blade for superior strength.
- Bird mesh to rear.
- Low pressure drop characteristics and high free area.

Please note that the sizes listed refer to the duct size, or the aperture the louvre is designed to fit. It does not include the flange.

Louvres are manufactured slightly smaller than the nominal size to ensure a comfortable fit.

Click here to download the manufacturer's brochure.

Please allow 6-7 working days for delivery as these are custom manufactured grilles.

For information on sizing weather louvres correctly please see:

Using louvres in ventilation ductwork..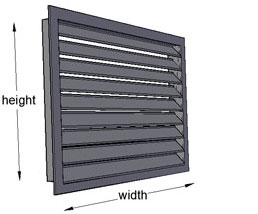 Click on a size from the drop down menu below that represents the width of the louvre required.


Width