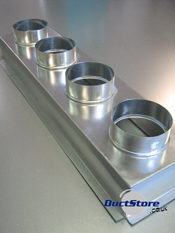 Manufactured to order from 0.7mm galvanised mild steel. Multi-spigot plenum boxes are available with or without a flange at the open end (see drop down for options). Spigots can be configured in a linear or square fashion as illustrated in the drawings below (subject to box size).

Please allow 4-6 working days for delivery as these are custom manufactured grille boxes which are not kept in stock.

The option to include a 6mm acoustic lining is also available on the pages that follow.