Please note that we are currently unable to dispatch to Northern Ireland. We apologise for any inconvenience this may cause.
Spiral Duct Grilles - Lindab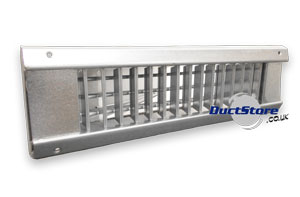 RGS is a rectangular ventilation grille with vertical adjustable bars for direct installation in circular ducts without the need for a boot or special take-off. They can be used for both supply and exhaust air.

These grilles are designed in such a way that the flanges always meet flush to the duct regardless of the duct diameter. They also come equipped with end caps and a gasketing material installed around the neck of the grille. This prevents air leakage. RGS grilles are manufactured from hot-galvanised sheet steel, and are assembled without the use of welding. This means that they can be used without further surface treatment, and that they have the same surface finish as the duct on which they are mounted. Screws are included.

75mm grilles are best suited to 125 dia ducts, up to 315 dia.

150mm grilles are best suited to 300 dia ducts, up to 500 dia.

225mm grilles are best suited to 500 dia ducts and above.

If you wish to install conventional ventilation grilles on exposed spiral ductwork please see our grille saddles.


Please allow 3 weeks for delivery as these are custom manufactured.