Due to a high volume of orders there will be a 2 week delay in all custom manufactured ductwork. This includes all rectangular ductwork, grille boxes, and fabricated round fittings. This does not affect our stock items. We apologise for any inconvenience may cause.
Baffle Grease Filters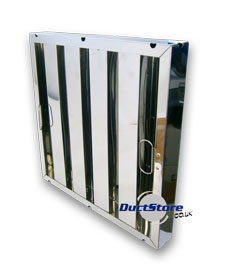 Baffle Grease Filters

For use in commercial kitchens and ventilation to extract grease laden air and offer a barrier to flame. Mesh grease filters hold the collected grease within the filter. Whilst this is an effective method of removing grease from the extracted air, it also creates a potential hazard if a fire occurs on the cooking surface. Because baffle grease filters allow the trapped grease to drain directly from the filter baffles into a drip tray below, this risk is removed.

Manufactured in stainless steel, the filters are easy to clean; simply wash regularly in a mild detergent.

Low pressure baffle filter
Robust construction, economy yet still offering high end features

Meets HVCA DW172 requirements

50mm nominal depth.
Please note that we can make custom manufactured sizes on request.